SIRF Go-See - By Donna and James Lewis
I have been a Community Associate for Right Up Our Street since the role was developed as part of the second phase of the project, having been part of the Rossington team for a couple of years. The aim of the role is to bring representatives of various communities within Doncaster together to help choose, make, see and share great creative and artistic activities for our town and villages. This, excitingly, includes attending 'go-sees' – visits to arts festivals to, hopefully, find acts which the people of Doncaster want to see as well as gaining ideas for how we can improve how we run our own festivals and events. My family (my husband Rich and 14-year-old son James) and I have attended the Greenwich+Docklands International Festival (London) and the Hat Fair (Winchester). It is from these visits that RUOS facilitated bringing Museum of the Moon, Block, Actual Reality Arcade.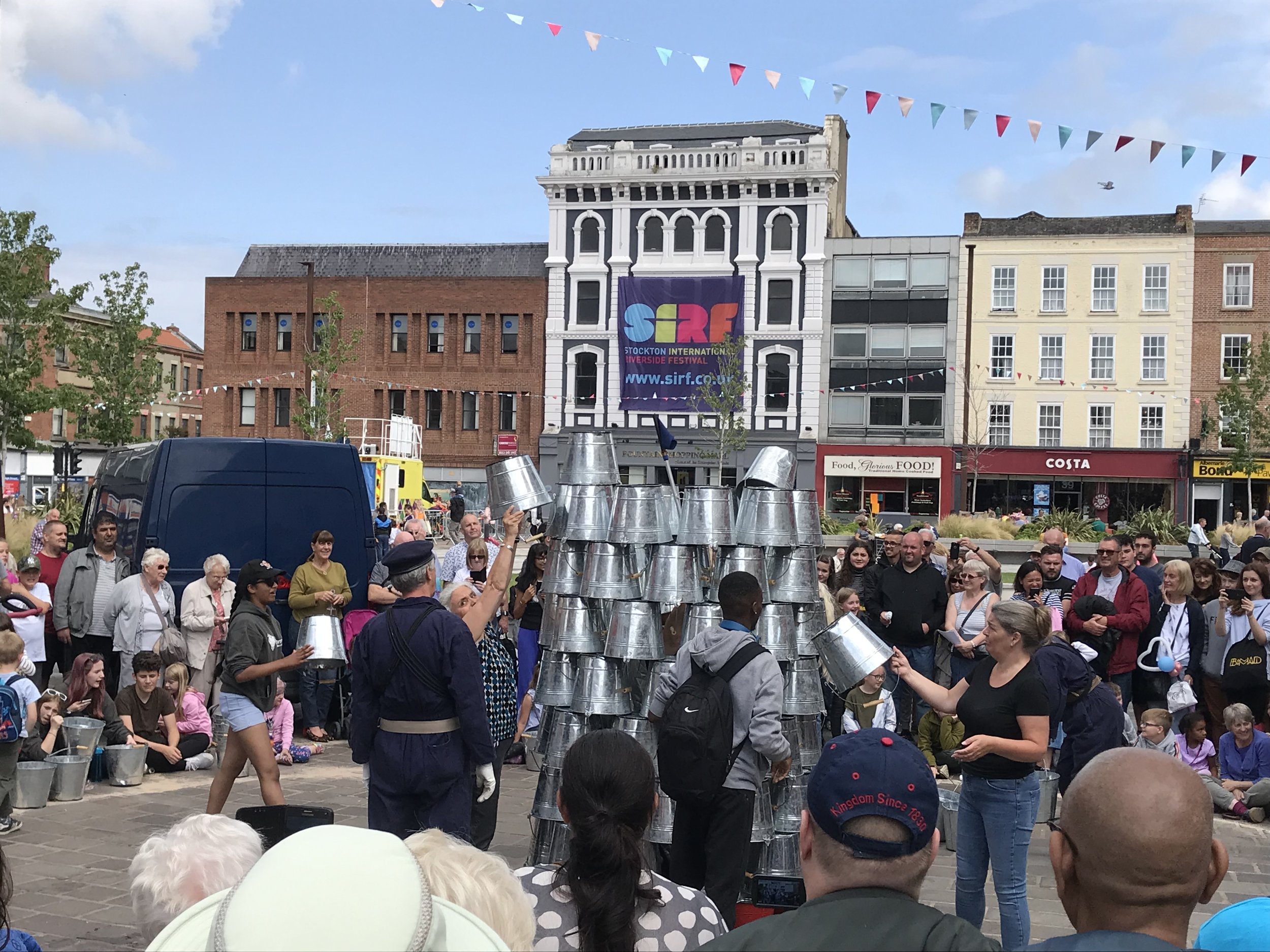 On Friday 2nd August, in the ongoing search for amazing things to bring to Doncaster, we attended the Stockton International Riverside Festival. SIRF is an annual outdoor arts festival that showcases international street theatre, dance, circus and music acts. The festival programme was full of weird and wonderful sounding shows and there was certainly plenty we wanted to see! As usual, the three of us all wanted to see different things but with a bit of negotiation we managed to come up with a plan for the day that would keep us all interested. Here are a couple of our favourite acts:
Buck a Brenda by Wild N Beets
This act were hilarious! The main performers 'Beryl' and 'Cyril' are both wheelchair users, and arrive on very elaborately designed horses / mobility scooters. The basic principle of the show was Buckaroo but with mannequin 'Brenda' in a wheelchair rather than a donkey. It was a family friendly show with plenty of innuendo to keep the grown-ups entertained. The interaction with the audience was great and the improvisation after some very random audience answers made it even funnier.
- Donna Lewis
Fantabulosa by Tickertape Parade
Tickertape Parade are a group of drag artists, both Queens and Kings, who have developed a family friendly show suitable for all ages. The Fantabulosa show was a mixture of singing, dancing, dressing up, storytelling and glitter! The performers, led by Ginny Lemon, read three stories about acceptance and being whatever you want to be. All of the audience enjoyed the show and many joined in. The younger children (and many of the adults) were all dancing by the end. This was my favourite act of the day!
- James Lewis
I hope that Doncaster will be able to host some of the amazing acts we saw in Stockton at some point. Right Up Our Street are doing some fantastic things and the artistic future of our town is looking bright!